So a wee bird has dropped into my inbox what a major newspaper has described as a report from HM Treasury. THREAD
It deals with the consequences of us leaving the EU without a deal - exactly what the "wing-growers" are pushing on us now.
/1
"Wing-growers" because their strategy is to leap off a cliff and believe very hard that we will grow wings. Would you like some extracts?
/2
Thought so. Coming right up. But first let me tell you that it dates to shortly before the Referendum vote.
/3
Ok. Well, the headline is that it won't be as pleasant as
@KateHoeyMP
and her Hard Right pals told you last night. We won't grow wings. /4

We won't have a very open economy. Which isn't great if the magic plan is to be a great trading nation. /5

Woah! It won't just hurt our access to the EU. It will also hurt our access to over 50 other countries. How many does that leave left? /6

And in relation to the world's biggest market, we'll have worse access than Yemen. Dunno about you, but that doesn't sound good to me. /7

Man! 61% of our agri-food exports will face average tariffs of between 36% and 70%. Still, it'll be good for (inadvertent) set-aside. /8

How much of our economy is made up of services again? I can never remember. Really? That much? Ooh. /9

But, I mean, lots of countries trade on WTO terms just fine. Don't they? Lots of advanced economies? Are you sure? /10

So prices are gonna go up for consumers or our producers are gonna get shafted. But the wings. Think of the wings. /11

Still, at least we won't be a rule-taker. We'll make our own. Take Back Control and all that. Won't we? /12

Remember what it used to be like? If the big guy knocked over your pint he bought you another, because you had lots of mates. /13

To compete, we'll slash environmental standards and labour protection. "Caution - some might argue that we should emulate" that model. /14

And the great argument for Leaving? That the EU stops us trading with the rest of the world? /15

56% of our trade will be hit if we leave on WTO terms. 44% is quite a lot. 56% is even more. /16

Only 7% of foreign investors view a substantial decline in access to the Single Market positively. 80% would lose a reason to invest. /17

Farming subsidies. Gove can promise you'll keep them. But, you know: it's Michael Gove. /18

Up to 28.6% of profitable farms will become loss making. But that's fine because, you know, umm... it was on the tip of my tongue. /19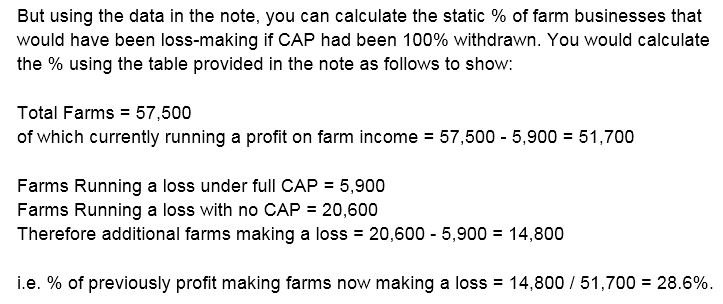 Still. Onwards and over. Just wait til you feel those little nubs, pushing through your shoulders, where the wings will grow. /Ends